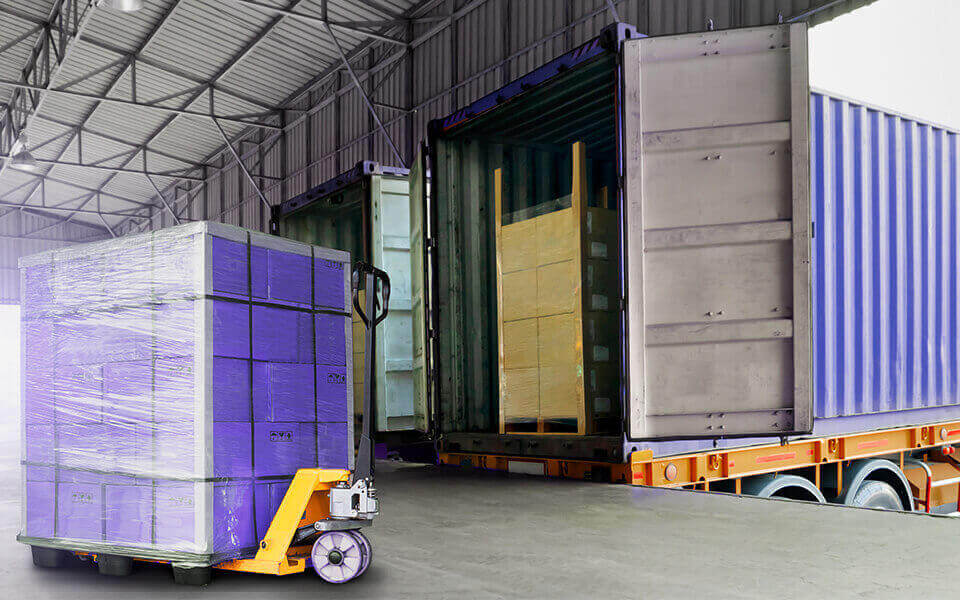 LTL Freight Services
---
(Less Than Truckload) LTL Freight is used when you do not require an entire 53 ft trailer. You only pay for the trailer space used which can reduce your cost to a fraction of a full truck load.
Trust Freight Logistics with Your LTL Shipments
What Is Less Than Truckload Freight Shipping?
Less than truckload (LTL) freight shipping is a transportation method that's used when your freight only takes up a portion of the carrier's trailer instead of requiring a trailer all to itself.
Typically, your items are put into pallets, crates, or large boxes and loaded into the truck along with shipments from other businesses. These shipments can weigh anywhere from 50 to 10,000 pounds.
LTL freight services are an extremely cost-efficient option for businesses. It works best if you are typically shipping an unpredictable variable amount of goods. Product manufacturers, wholesale distributors and thousands of other types of small businesses all use LTL for shipping out at different intervals to specific locations.
What Do LTL Carriers Like Freight Logistics Do Exactly?
Although you're paying less than you would for shipping a full truckload, LTL freight shipping gives you access to special services.
LTL trucking is a pretty involved process with many details that can effect pricing per load. Freight Logistics can provide you with additional services like lift-gate delivery, residential delivery, inside delivery, guaranteed transit services, and consolidation services.
LTL carriers like Freight Logistics also provide your business with easier order tracking, faster transit times, and greater control of your shipments' delivery dates.
Why Should I Choose Freight Logistics?

When it comes to Less Than Truckload freight services, you need to know that everyone involved in the shipping process is working tirelessly on your behalf.
Freight Logistics goes above and beyond to ensure that your shipments are transported by the best top-rated US LTL carriers.
LTL Experience You Can Rely On
We have over 30 years of experience with all types of freight shipping, as well as a wealth of knowledge inside the industry.
We are knowledgeable about all of the ins and outs of the truck shipping network and we are equipped to help you along every step of the way.
Our knowledge and experience uniquely positions Freight Logistics to:
offer freight classification assistance
offer more accurate guidance about transit times
choose carriers for remote shipper and receiver locations
help manage the logistics of your Less than Truckload freight shipments
Proven Results & Expert Advice
Working with Freight Logistics for your LTL freight shipping needs means that you always have trusted experts to turn to for advice.
LTL freight shipping can be intimidating. We're here to communicate with LTL carriers on your behalf. We speak the industry language and know how to avoid extra costs and shipping delays.
Additionally, we handle the entire shipping process for you. You never have to worry about making the wrong decision when it comes to choosing an unknown LTL carrier or managing the logistics of your shipments.
Reliable LTL Freight Network
Drama and delays are the last things you want to deal with when it comes to shipping. Because LTL trucking involves shipping multiple businesses' freight at once, it's easy for inexperienced LTL carriers to get overwhelmed. The sheer volume of shipments can create mistakes that lead to delays or missing items. You need an experienced partner to rely on for all your freight needs.
With over 30 years in the business, we've built relationships with the most reliable LTL carriers in the industry.
We will call on multiple LTL carriers to make sure that your shipment gets to its destination without unnecessary surprises and delays. We manage the shipping process from start to finish to ensure that the process goes smoothly.
Exceptional Customer Service
Just like your customers depend on you for excellent products and service, you should be able to depend on your freight service provider.
Here at Freight Logistics, we work with you along every step of the LTL freight shipping process. We keep you updated on your shipment's whereabouts. Our team also constantly communicates with the LTL carriers that transport your freight. We make sure that you're getting the best possible service.