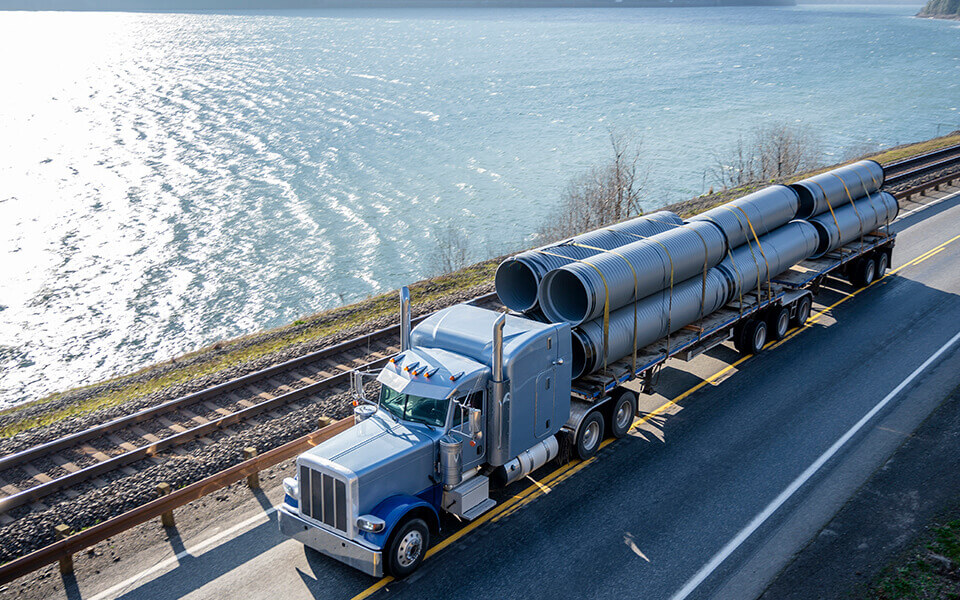 Flatbed Trucking Services
---
Do you have large or oddly-shaped items to ship that won't fit into a standard trailer? If so, you need flatbed trucking services from Freight Logistics!
How Do I Know If I Need A Flatbed Truck?
Standard flatbed trailers have long, plank-like "beds" with no sides. This type of truck is used to transport bulky, oversized, and/or oddly shaped items.Flatbed trucks can be straight-across or articulated and come in a large array of sizes, from standard utility trucks up to extended tractor-trailer sizes. 
The most common items shipped via flatbed trucking are:
large machinery and equipment, including tractors, backhoes, dozers, excavators, forklifts, compactors, as well as other agricultural, construction, manufacturing, and warehousing equipment
formed concrete items, lumber, construction materials, large beams, and trusses
industrial equipment such as air compressors, storage tanks, air conditioners, cooling towers, fabrication machinery, air turbines, oil & gas equipment and manufacturing systems
freight exceeding 100'' in height or width
cars and other specialized vehicles
freight requiring top or side loading via crane, wench, roll off platform, or forklift
What Are the Dimensions of a Flatbed Trailer?
Flatbed trailer dimensions vary depending on the truck type. 
However, tractor-trailer sized flatbed trucks are usually between 48 feet and 53 feet in length and can haul up to 48,000 pounds. 
Standard width is 8'-6", but the width can extend up to 11'-0". Flatbeds that are carrying loads wider than 11' may require an escort vehicle.
Why Is It NOT A Good Idea to Work Directly With A Flatbed Truck Carrier?
Many businesses of all sizes mistakenly assume that it's cheaper to hire a flatbed truck directly through a flatbed carrier because they're cutting costs by "cutting out the middle man." 
However, freight trucking companies like Freight Logistics, Inc. can actually save you significant amounts of both time and money. 
How?
We're able to leverage a large volume of freight into a lower tier of pricing. Even large companies who regularly ship freight can take advantage of the savings our national volume discounts can offer.
Why Should I Use Freight Logistics For My Flatbed Trucking Needs?
Your freight is precious cargo, and you need to know that it'll be transported by reliable, safe, and experienced flatbed truckers. 
We expertly load your items onto our trucks and ensure their safety along every step of their journey.
Experience You Can Trust
We've been in the flatbed trucking business for over 20 years. We have experience transporting all types of loads, so you can rest assured that your freight is safe in our hands.
Safe Loading and Unloading
Loading your freight safely and correctly is absolutely necessary. We make sure that your shipment is both loaded properly and that it's balanced correctly over the axles. 
This ensures that:
We adhere to all laws and regulations, and
Your freight is transported safely.

 
Unloading your freight safely is equally as important as loading it safely is. We carefully unload your shipment to make sure that it arrives at its destination undamaged and in perfect condition.
Top Tier Flatbed Truckers
Flatbed trucking takes skill and not all companies are capable of delivering experienced drivers for you. 
All of our preferred drivers are trained to secure the loads they transport in accordance with the Department of Transportation's regulations. They expertly and quickly determine the types of tie downs they need for the job, as well as how many tie downs it will take to secure your freight.
Our experienced flatbed truck drivers are also taught to protect your freight to prevent damage from the elements and other outside forces. Not all loads require covers, but our drivers are fully prepared to protect those that do. All of our drivers are trained to secure tarps and other covers, so that your freight is fully protected along every step of its journey.
Exceptional Customer Service
When it comes to flatbed trucking and freight transportation, effective communication is essential. Our entire team works with you along every step of the way and make sure that you stay fully up-to-date on your freight's journey, so that you don't have to worry about any surprises.