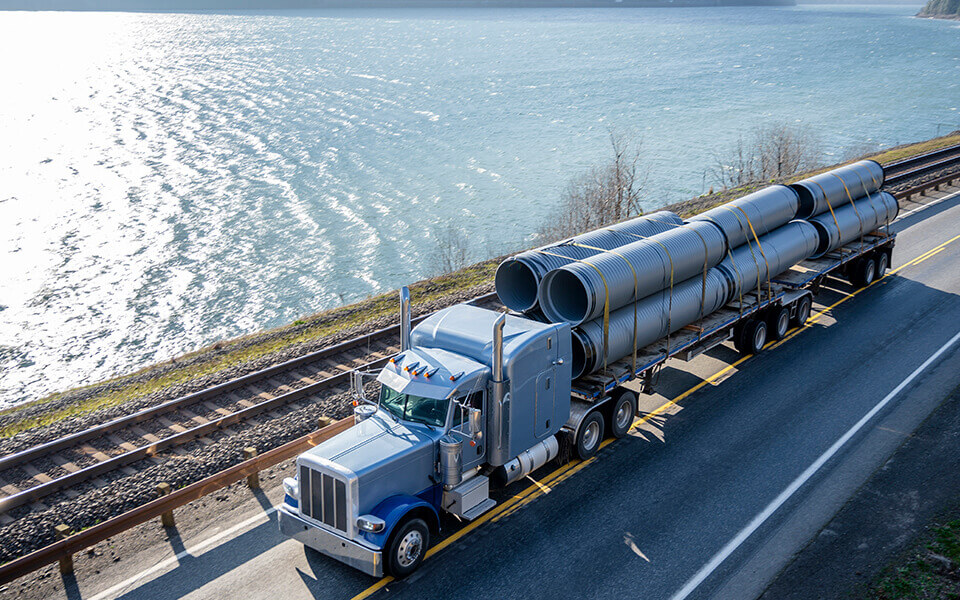 Flatbed Trucking Services
---
A standard flatbed trailer is a piece of shipping equipment designed with a long, plank-like 'bed'. It has no sides and is used to ship items that are bulky, oversized or oddly shaped.
Flatbed Trucks Are Essential to Moving the Big Stuff
The most common items shipped via flatbed trucking are large pieces of machinery and equipment, construction materials, lumber, oil & gas items, cars, large engines, shipping containers and the like. Flatbed trucks can be straight-across or articulated and come in a large array of sizes, from standard utility truck up to extended tractor-trailer sizes.  
There are two ways to hire a flatbed truck: directly through a flatbed carrier and indirectly via a freight logistics company such as Freight Logistics. Many businesses, regardless of size, assume that going direct with a flatbed-trucking carrier is the less expensive option by "cutting out the middle man." However that "middleman"—the logistics company—can actually save you significant time and money. Freight Logistics is able to leverage our large volume of freight into a lower tier of pricing. Even large businesses that have regular freight shipping needs can realize cost savings by taking advantage of our bulk discounts.
A flatbed truck can ship almost anything, especially at these flatbed rates! However, it is unsuitable for items that can be easily damaged by the elements. Tarps can be provided to protect your freight when circumstances dictate. Many types of freight can be loaded onto a flatbed and the most common shipping uses include:
Large machinery and equipment, including tractors, backhoes, dozers, excavators, forklifts, compactors and other agricultural, construction, manufacturing and warehousing equipment.
Formed concrete items, lumber, construction materials, large beams, or trusses
Freight exceeding 100″ in height or width
Cars and other vehicles
Freight requiring top or side loading by crane, wench, roll off platform or forklift
Flatbed trailer dimensions vary depending on the truck type, however tractor-trailer sized flatbeds are generally between 48 feet and 53 feet in length. The standard width is 8'-6", although this can extend up to 11'-0". Flatbed trucks that carry loads wider than 11 feet may require an escort vehicle; most states require this if a load is wider than 11'-6" in width.  A standard flatbed truck can haul anywhere up to 48,000 pounds. For heavier loads or other questions, please inquire for specific information.
Flatbed trucks are a requirement for oversized shipments like those found in the construction, energy and agriculture industries and can be an affordable form of freight shipping.